Animal M-Stak Reviews (Universal Nutrition)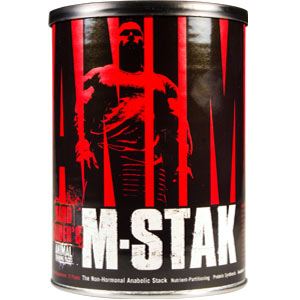 Positives
Easy 21 day cycle
This works as advertised
I gained 4kg after just one cycle
Negatives
8 pills a day (not keen on swallowing pills)
Universal makes brilliant supplements. I am writing this again as I said before in my previous review about their Real Gains weight gainer. So when it comes to another Universal Nutrition product, my expectations are high and I always get eager to see the results.
What Do You Get?
Animal M-Stak is another great product from this company. There are 21 packets in the can and you use 1 pack a day (so 21 days supply). The supplement is suitable for the hard gainers but I am not a hard gainer. My body type is more of ecto-mesomorphic than typical ectomorph. Therefore, I thought this supplement could help me in improving my gains further. I bought the can for $30 and I used it for 3 weeks and now am writing this review to share the changes I have been through during this bulk phase.
Animal M-Stak will not work alone. Use it with loads of food, preferably a wholemeal diet for best effects. It will make you feel hungry, therefore you must be ready to eat a lot. I galloped good amounts of meat and dairy foods for getting best results from the supplement.
Profile
The main ingredient of Animal M-Stak is beta ecdysterone which a phytosterol i.e. a naturally existing anabolic agent without any known harmful effects. Other ingredients accompanying beta ecdysterone are methylisoflavone, turkesterone and B-sitosterol. These all have anabolic type properties. Therefore, one can use them for improving muscle mass in the body.
Each individual packet contains eight pills – four capsules and four tablets. One capsule is red in color, which is the energy complex – so you can skip the stimulants if working out late at night or if you are using any other supplements with caffeine. The capsules are very easy to swallow but it is a little harder with the tablets. They are bigger and smell like a herbal medicine. The other three capsules are blue colored.
Taking It
I took the packet 45 minutes prior to my workout, and did take the red capsule. There is no crash after workout despite me taking the energy complex and I like this aspect of Animal supplements. There is nothing to say about Taste, Mixability and other aspects like protein powders and pre-workout supplements as you just swallow the pills everyday with water before workout and you are done.
The Animal M-Stak produces favorable changes to create an anabolic environment in the body. It produced no imbalance as far as my gastrointestinal system is concerned. Digestion remained strong without any loose stools, constipation, flatulence etc. I would like to finish my review by talking about the most important aspect of this supplement – its effectiveness.
Does It Work?

My muscle mass increased after one cycle by 4 kilograms. I could eat more meat and dairy and could lift heavy weights as well. The recovery was fast.
You Can Buy Animal M-Stak From Amazon Here
Poundage increased on all-important lifts like deadlifts, bench and squats. My muscle size increased after using this supplement. Hence, overall experience with M-Stak is great and I will go for my next cycle as well after 10 days from now as I continue to bulk.
We hope you love the products we recommend on this site as much as we do. But just so you know, our site may receive a small percentage of the purchase price if you buy.