Altius Review (Jacked Factory)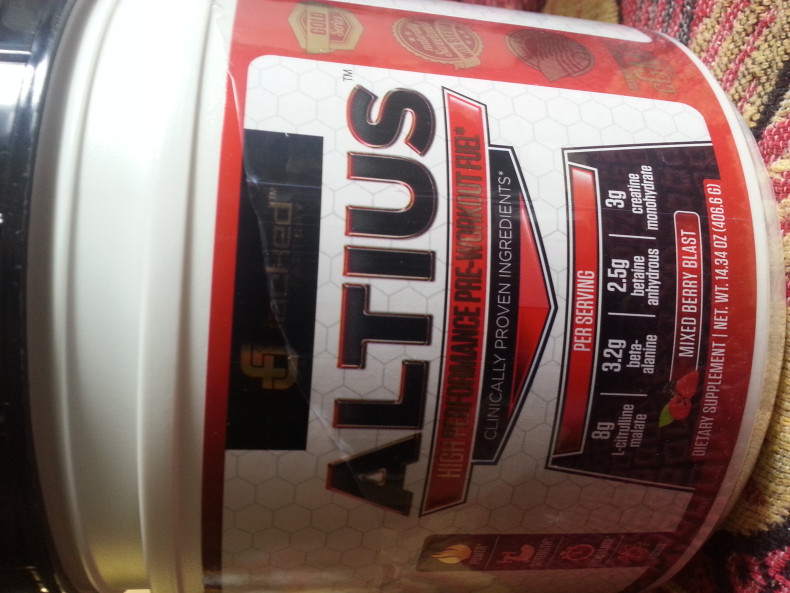 It has been a long time since I had a non concentrated pre-workout. I am a stim junky and always go for the concentrated pre-workouts. So I was happy to be able to get a hold of this Altius product from Jacked Factory.
Altius Profile
This has a very good profile, one of the best of a pre-workout supplement that I have ever seen. All the doses of the ingredients are all listed with no proprietary blend. They are all clinically dosed ingredients that are each backed by clinical studies.
A serving of one scoop (20.33g) includes:
Vitamin b12 = 500 MCG
Sodium = 150 MG
Potassium = 300 MG
8g Citrulline = promotes better muscle endurance and muscle pumps.
3.2g Beta Alanine = improves endurance and recovery.
2.5g Betaine- anhydrous = increase nitric oxide (NO) levels and regulate cellular fluid volume, which could further promote muscle pumps and overall muscle size.
3g Creatine = helps to supply energy to all cells in the body
325mg caffeine anhydrous = boost alertness and drive, increase muscle strength and endurance, during workouts for greater training intensity.
150mg alpha-gpc (alpha-glycerylphosphorylcholine) = a cholinergic compound that is used for its cognitive-promoting properties, and to enhance power output in athletes.
5mg bioperine (black pepper fruit extract) = the most established effect of piperine is its effect on absorption of nutrients from the intestine. This effect is known as "bioenhancement."
There are 20 servings per container.
Taste
The scooper in this is pretty good sized. There's a fair amount of powder you're mixing up but it has to be to include all the quality ingredients contained herein.
Altius has no artificial sweeteners or dyes, it's 100% Naturally Sweetened & Flavored.
The only flavor I see around is the mixed berry blast, not sure if they have flavors other than this but the taste is not bad at all. For taste I give altius a rating of 8/10
Mix ability 10/10
The powder is really fine powder so when you pour the scoop into your glass of water it than just starts to dissolve on it's own. Everything dissolves completely with a little bit of shaking, no settlement of powder or any grainy stuff at the bottom.
The mixablity rating is easily a 10 because it really mixes that good.
Effectiveness 9/10
I started with 1 full scoop of the Altius, but did not feel what I expected. So my next workout I used 1 1/3 scoop and that worked perfectly for me.
I soon begin to feel the Beta Alanine tingles. You get the itchy face and scalp first then begin to feel more energy making itself known. Just the right amount of everything that got me focused during my entire workout.
For me, it's more of a stimulant/focus-based pre-workout, as opposed to a "pump" pre-workout. Energy was great throughout the entire workout and for some time after.
I only gave this a 9 because one scoop did not do it for me.
Altuis is being sold for around $39 for 20 servings, that's $1.95 per serving which is not bad at all especially if you can get away with half a scoop only.
For a product of this quality, that price can't be beat. You owe it to yourself to give this one a try.
This is a great pre-workout product that's worthy of your dollars to try. With nothing but high quality ingredients in here at effective doses, you'd have to try hard to not like this one.
Click here to order direct from the manufacturers