Nytric EFX Pro Reviews (All American EFX)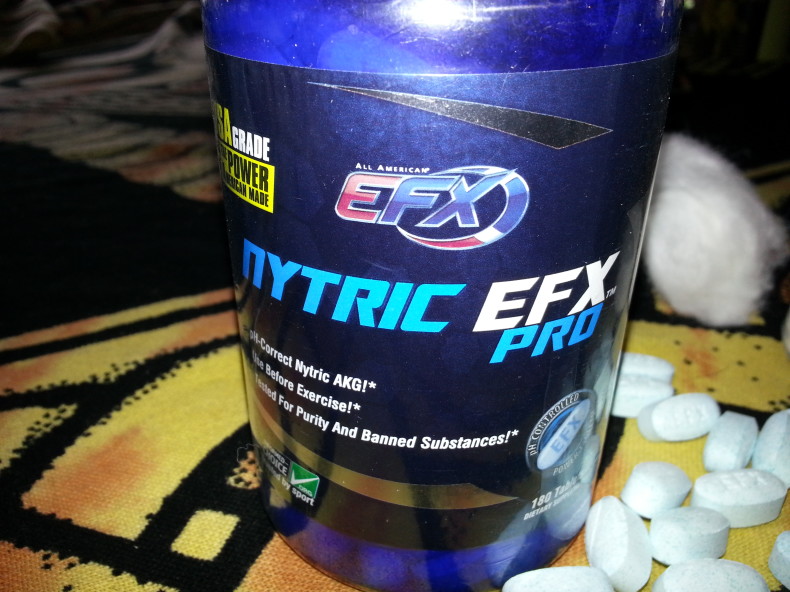 Positives
Good Pump All Day Long
Great Blood Flow
Good Feeling After Workout
Negatives
The pills are bit big and not very easy to swallow
These pills dissolve fast and because of that you can taste it when placed on your tongue - the taste is disgusting
This was my first Nitric Oxide (N.O.) product, so I had no idea what to expect. A good starting point for an objective review right?
I chose this product because it was very inexpensive, only $16 on sale for some reason, so I went ahead and purchased my first ever N.O. product.
I started taking 2 tabs on my first training day, and 3 tabs on the second training. Then for my third training day took 4 tabs and found my sweet spot on that day. So from that day on whenever I go training I take 4 tabs one hour before training. I did not take this product on rest days.
More Strength
From the third training day I began to notice the effect of nitric oxide in strength, especially in the last 1 or 2 reps I managed to squeeze out – I could not make it without this product. I do not know if this is something mental (placebo effect) since this product is not designed to give strength but makes your muscles fuller, but who cares if it's an unexpected bonus, right? 🙂
More Definition
I can confirm that I had more definition. Your muscles are just fuller, so it seems that you're bigger and dryer. Veins started popping out in places where I never saw any veins before.
More Vascularity
Like I said above, I did notice veins popping out in places where I never saw them before. And I have a low body fat percentage so even without this product I have veins popping everywhere. Road map they say.
Encourages New Muscle Growth
This also seems to be true, as I have measured my arm on a rest day, and it was several millimeters bigger than before I started.
Maintains Strong Fixed Pump
This, too, I can confirm. What normally happens when you have have trained, is that the pump steadily fades away. But my muscles remain extra full throughout the day and after.
You must drink a lot of water while on this product or else you will not get the full effect.
Bottom Line

My conclusion is that I think it is a very nice product.  All American Nytric EFX Pro does what it says it will do, and I recommend it to anyone that wants to try out an N.O. product.
You Can Buy Nytric EFX Pro From Amazon Here
If you have never tried an N.O. product before I'd suggest you try this one first because it certainly worked for me. I give it a 9 because I do find it a good product. However, I haven't tried any other N.O. type products so I don't know if there are products that work better.
We hope you love the products we recommend on this site as much as we do. But just so you know, our site may receive a small percentage of the purchase price if you buy.