White Flood Reborn Review (Controlled Labs)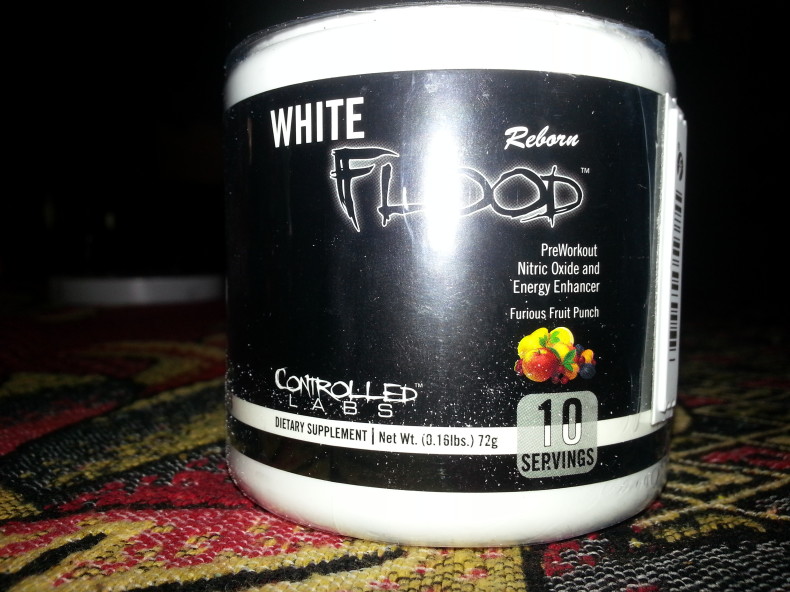 Positives
Gives Great Energy
No Crash
No Jitters
Effective
Negatives
Taste Not All That Great
Does Not Mix Very Well
The original White Flood did nothing for me in terms of energy and focus. So when I saw this on the shelf of the supplement store I said to myself that there is no way that I'm buying any more – Born or Reborn :-). But I'm glad I changed my mind!
Because I saw that they also had a 10 serving tub, and that was pretty cheap so I thought OK if it's that cheap why not give it one more chance? So I went ahead and bought the 10 serving size of Reborn and I have to say that White Flood Reborn is a great pre-workout! As a matter of fact this is now in my top 10 pre-workout supplement list.
I bought this for about $8 for the 10 servings tub and was money well spent.
Taste
To be honest with you I do not care about taste in any pre-workout supplement – all I want is for it to give me the energy and focus I look for in any PWO. The flavor I got was 'fruit punch' so I cannot speak for the other 2 flavors Controlled Labs offer but the fruit punch is not bad at all. It does not taste like fruit nor punch, it just has a sweet taste with a bit of a bitter aftertaste.
Mixability
The directions say to mix one scoop, but I went ahead and mixed two scoops of White flood because I have used a lot of pre-workout supps and have a high tolerance. Most of them don't do shit for me. Anyway, I mixed 2 scoops and mixed it quite a bit, and there was some residue on the bottom of the bottle as you can see in the image below.
I am used to seeing residue in pre-workouts and have seen a lot worse, so I was not surprised when it occurred with this product. I give mixability a rating of 7/10.
Effectiveness
This pre-workout really surprised me because I was not expecting much. As I said before, I tried the original one which had more ingredients then Reborn but still the original White Flood did nothing for me.
However, the energy that the Reborn version gave me was very clean, non jittery and lasted for a while – even hours after the gym. Now I will not say that this is the best I have tried out, but it's definitely money well spent.
Focus was there too but nothing mind-blowing.
Pump
I did not experience any great pump from this, but also do not really care about pump in a pre-workout. I would rather have DOMS the next day then having a pump in the gym.
So if you decide to buy White Flood don't expect a great pump – you can simply add 2 grams of Citrulline though if that's what you're looking for.
Overall
This was money well spent, and I will be buying again in the future now that I know that it gives awesome energy. So in conclusion White Flood Reborn gives great energy, decent focus and no pump. I rate Reborn 7 out of 10, it's not bad at all.