Real Gains Reviews (Universal Nutrition)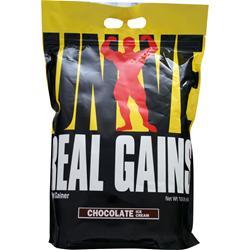 A world-renowned brand for bodybuilding supplements, Universal Nutrition does not need any introduction. Every other gym freak uses the products from this company and for me every product of theirs works that I have tried.
Having recently tried their weight gainer called 'Real Gains' I thought I would write up a review for you guys. And I must say that the name certainly lives up to the expectations when it comes to muscle gains. My experience is after using more than 10 pounds of this product.
I bought this gainer for $77 which is a cracking deal where I live. I have been looking to try this product for a while and finally made up my mind and bought it. The price is little higher than other weight gainers with a similar profile but this one works for me.
Profile
Real Gains comes in three different packaging sizes according to weight – 3.8 lbs, 6.85 lbs and 10.6 lbs. I used the 10.6 lbs pack in chocolate ice cream flavor. There are 31 servings of 155 grams each and 3.5 scoops make around a serving. Every serving provides 53 grams of first class protein sourced from micellar casein, ultra filtered whey protein concentrate and isolate. Every serving has 86 grams of carbs and 5 grams of dietary fiber.
Therefore, the profile is brilliant and one can stack this gainer with simple creatine, a pre-workout supplement etc. I am using it with creatine. The creatine powder replenishes the depleted creatine reserves of the muscles post workout and the first class protein with carbs provides adequate recovery for the microtrauma muscles suffer during intensive strength training sessions.
I will kick off my review with the taste and consistency. Real Gains in chocolate ice cream tastes fine, it is not very sweet, not too bland but just perfect. The gainer is not very granular like whey protein concentrates. The taste did not impressnor was disappointed. It is not too rich in milk (I took it in milk only), in fact ideal if you don't shakes that are too sweet.
Second aspect is Mixability. This is a weight gainer and one can expect clogs when mixing it. You can see the micellar casein granules in the shaker bottle – micellar casein supplements are harder to mix. I took it as 2 scoops in 500 ml milk. Some parts of the powder settles at the bottom of the shaker and some powder clogs on top of the shaker bottle. I think the whey protein floats and the micellar casein clogs settle at the bottom of the shaker bottles. I am not sure about this but I have seen clogs floating on milk before in plain whey proteins as well. It took me a while to mix this supplement well.
Digestibility is fantastic. After all, it is Universal Nutrition product. There is no bias in my mind for the company – they just deliver and deserve all the credit they get. There was no bloating at all, no indigestion, constipation, diarrhea etc.
Does It Work?
This supplement helped to gain weight and muscle. I gained about an inch on my arms, my weight went up 4 kilograms and strength improved by at least 10%. This is what every gym rat would like. It improved performance and muscles in my case.
The only disadvantage I can figure out here is the availability. It is not easily available in my country. I wish to buy another 10.6 lbs pack but it is not available now and it is a little pricier than other supplements. If it gets back in stock, I will surely use it again on my bulk cycle as this is one of the best weight gainers on the market.