Jetfuse NOX Reviews (GAT)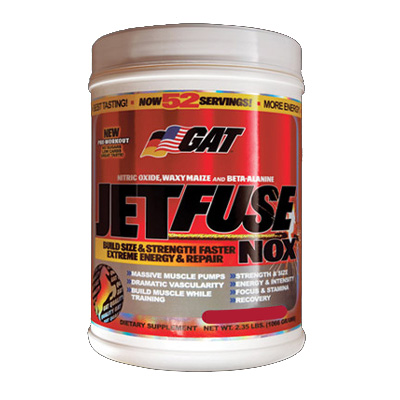 Positives
Boosted my recovery well
Improve my lifts and muscle gains
Didn't affect my sleep with too many stims
I have never been a big pre-workout supplements fan. I have been training seriously for the past 3 years now and the PWOs really don't work for me. I don't like stims either because I workout late at night and stims would keep me awake disturbing my sleep and recovery.
So I was looking for some BCAAs to take along with creatine but wanted a supplement that would not upset my sleep and also be gentle on my stomach. I have tried BSN NO-Xplode, Gaspari Nutrition Super Pump and SP Max in the past. So, I decided to try GAT Jetfuse NOX for an all-in-one answer to boost recovery.
What Do You Get?
I chose this supplement because it has beta alanine as the main ingredient along with creatine, BCAAs and overall, it seems to be a decent profile to me. There are 52 servings in a can and I used one and half to 2 servings in a day. I am writing this review after using 2 cans of GAT Jetfuse. So I'm rating and reviewing this supplement for guys looking for a stim free pre-workout supplement.
Effectiveness
Jetfuse worked well for me. It improved my lifts, muscle gains and helped me get a sound sleep without causing sleeplessness like other pre-workout products. Beta alanine, creatine and the branch mchained amino acids are the reason for the effectiveness. I don't need to spend more on buying separate creatine, BCAAs or the beta alanine that acts as a mild stimulant as well. It keeps me motivated to hit the gym floor and workout hard.
After completing one can of GAT Jetfuse, my lifts were improved. I lifted 400 pounds in deadlift at one rep max for the first time. My size also improved along with lifts. I have been using GAT Jetfuse along with a mass gainer supplement and started getting more protein in my diet as well. This amplifies the gains of course.
Try to get good number of carbs and proteins, and add a scoop of GAT Jetfuse for the best results you have ever seen. I rate it 9/10 for the effectiveness. And I must say this product is better than other popular and expensive pre-workout supplements that do nothing but upset my stomach due to a large amount of sweeteners.
Taste & Mixability
I must say tastewise Jetfuse is good enough that you won't be afraid to drink it even when you increase the number of scoops to 2 at a time. You need to add more water to mix it well if you are using more scoops. But it mixes good enough that you can drink it without any need to gallop down chunks of dry powder. I will say the mixability is fine if it isn't perfect. To mix a scoop well you need a glass of water. I have tried Exotic Fruit flavor. It's neither bitter nor too sweet but tastes great. I liked the Lemon flavor more than the Exotic Fruit.
Digestibility
As I said above, digestion is perfect and gives zero bloating. I took 2 scoops before a workout and got no cramps, bloating or gas at all. There are less sweetening agents than other products and this has a great profile of ingredients. I will rate it 9/10 for digestibility.
In Conclusion
Overall, GAT Jetfuse has worked wonders for me for by amplifying the rate of recovery after each workout I do. I will rate it 9/10 and will buy it again. This is an underrated product, which comes for a low price and gives you 52 servings in one can, so it lasts quite a lot longer than more expensive products that come with amazing marketing and poor performance.