Gold Standard 100% Whey Reviews (Optimum Nutrition)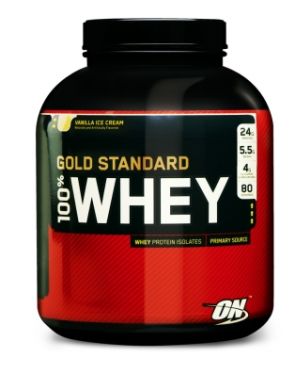 Positives
Builds Muscle
Great Taste With Milk
Good Value
Bottom Line
Summary: I highly recommend this product. If you are just starting out and wanting to grow your muscles, or if you are experienced but have reached a lifting plateau. ON's Gold Standard Whey will help you push through and reach your goals.
Optimum Nutrition produces some of the best quality whey protein products on the planet. ON's Gold Standard 100% whey protein was probably the first supplement I ever purchased. And I still use it now – that says a lot!
Protein is an essential supplement for individuals who weight train, regardless of their size, weight or level of experience. Simply put, you will not make the gains you want without additional calories and protein above and beyond a 'normal diet'. This product will help you get there.
When using a protein supplement, consistency is arguably even more important than any kind of pre, post, or nutritional supplement. Think of this as extra FOOD, and as every lifter knows, food equals fuel.
Generally, on lifting days I will consume three separate servings of a protein supplement: once shortly after breakfast, once as soon as possible after my workout, and a final serving a few hours before I go to sleep. On off days, I will consume one serving somewhere during the day as a snack inbetween meals.
I have had an extremely high metabolism, and when I first started lifting I found that I was hungry all the time – and that my lack of additional calories and protein was limiting my workouts. The bottom line is that ON's Gold Standard whey helped me succeed at my goals, and continues to help me grow.
A Word On Taste
While I believe protein supplements are essential to consistent weight training improvement, they are practically worthless if taken inconsistently or without intention. There are a huge variety of protein supplement variations on the market, and generally they advertise by showing how much protein is in their specific formulation.
But remember, this is a product that you may be taking for years! Overall taste is just as important as overall protein content, simply because if something tastes bad you are not going to look forward to consuming it. And if you start to dislike your supplement, you will start to dislike your workout routine.
Gold Standard's 'Extreme Milk Chocolate' might not be the most 'protein efficient' serving on the market, but it has a taste that I actually look forward to after working out, at a good price – which means it is that much better for helping me be efficient about my training.
While 'Extreme Milk Chocolate' CAN be mixed with water instead of milk, to me it tastes pretty gross that way. So regardless of your milk preference – I enjoy whole milk myself – I recommend having a good stock of milk in your fridge. Not having enough milk left over for a quality Gold Standard protein shake, after a hard workout is a disappointment you don't want to experience.
Again, as taste is such an important factor in maintaining training consistency and discipline, I would encourage you to order a variety of sample flavors BEFORE you invest in a ten pound tub of a flavored protein that you hate (double rich chocolate caught my eye). Additionally, there is no need to limit yourself to just milk – experiment by adding vanilla ice cream, yogurt, or even a drop or two of flavored liqueur into your protein shake.
In Conclusion

This is a good solid product from Optimum Nutrition that does what you need. The value is good, the taste is good (for me – with milk not water).
You Can Buy Optimum Nutrition Gold Standard From Amazon Here
No, Gold Standard whey is not the most technical highest possible level of 'protein per gram'. But then I don't want to pay crazy money for hardly any extra real world benefit. This works, I still use it as my main protein powder and plan to continue doing so.
We hope you love the products we recommend on this site as much as we do. But just so you know, our site may receive a small percentage of the purchase price if you buy.