Mass Peak Reviews (Inner Armour)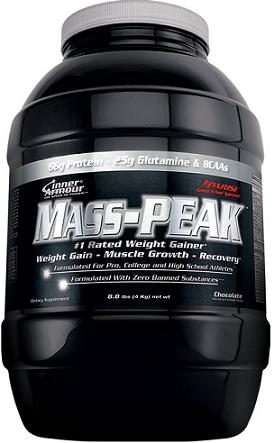 Negatives
Very hard to mix
Taste is not good at all (far too sweet)
Inner Armour is a newer range of products for bodybuilders and athletes. I used amino acid tablets from this company when I started going to the gym, and they were good. I had been looking for other supplements from this company but they were unavailable due to few supplement importers in my country. However, the supplements are now more accessible and I tried the Mass Peak weight gainer, in an 8.8 lbs pack.
I bought this for $70 in chocolate flavor. The packaging looks good and so is the ingredient profile. It contains 50 grams of protein in 173 grams of serving. This tub contains 23 servings approximately and the protein comes from whey protein concentrate, isolate and hydrolysates along with micellar casein for sustained release. Overall, the ingredient profile looks great with complex carbs and first class protein.
Let's check out the product review so that you can decide if it's something you want to try.
Taste and Texture
I opened the tub and took scoop out of it. The powder has very different texture from other weight gainers. It sticks to the walls of the tub and even to dry skin. Taste is not good at all. It is way sweeter than I can tolerate. I can say sweeter than other gainers I have tried too with similar profile.
I simply did not like taste and it was hard for me to forget the taste and eat this product. It is not a good chocolate flavor in my opinion. I can score the taste 6/10. It would have gone down if the product would taste chemical-like, but it is not like that, the only problem is the amount of artificial sweetener.
Mixability
The big problem is mixability though. It is very hard to mix it into water and when it comes to mixing in cold milk, I spent some time mixing and dealing with clumps of powder. The powder sticks to the walls of a shaker as well and it mixes to make a thick, sweet shake.
You can see from the pictures below – it forms too many clumps and I need a spoon to break them and mix it forcibly. I will give it 5/10 for Mixability — and Inner Armour needs to work seriously on this part of their gainer.
Digestibility
It is fine with digestion though it formed some flatulence in the beginning, but my GIT adjusted with it and I have been using it for the past 20 days now. It gets a score of 8/10 for digestion.
Effectiveness
I did not see many effects from Inner Armour Mass Peak. I got some weight gain, possibly 2 pounds after using a tub. I took it in under my normal routine conditions working out 5 days a week at moderate to high intensity
I am not a classical hard gainer but ecto-mesomorph with PBF at 20%. I felt some disappointment as the ingredient profile seems good and comparable to many other decent products on the market. I had a good experience with this company in mind, but I will not buy this product again because it is not worth the amount I spent on it. There are other options like Cytosport Monster Mass, ON Pro-complex Iso Mass Xtreme Gainer, Universal Nutrition Real Gains and numerous other products coming from reputed companies. Therefore, I will give it 6/10 for not really performing in my case. I did not suffered from any acute ailment/stress while using this supplement.
Will I buy it again? – No
Should you go for it? – It is fine if you have low budget and you can get it real cheap.
Are there better products available? – Definitely, I'd suggest trying Iso Mass Extreme Gainer or Cytosport Monster Mass instead.
Overall score – 6.25