Power Mass Xtreme Review (MVP Biotech)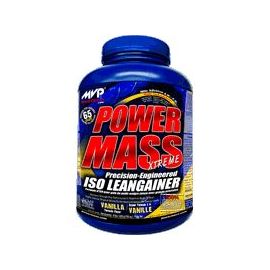 Negatives
Bitter flavor
Just didn't work well for me
I've used only two products from MVP Biotech's vast product range, namely Power Mass Xtreme weight gainer and ProWhey 3G. The company is popular in Canada where they are based, and you can find many good reviews about these products online.
What's In It?
The Power Mass Xtreme 'ISO LeanGainer' has got a long list of ingredients. I bought an 8 lbs tub. There are 23 servings per tub of 161 grams each. It provides 65 grams of protein per serving, which comes from a blend of whey protein isolate, milk protein isolate, calcium caseinate, micellar casein and egg albumin. You get around 60 grams of carbohydrates per serving and a complex of essential fatty acids, medium chain triglycerides, fiber, vitamins, glutamine, BCAAs, arginine and betaine.
It certainly looks like an outstanding profile, and you probably won't get all this in many other weight gainer products. But my experiences with this product just aren't that good.
Taste
The chocolate lightening tastes bitter both in water and in milk. It could be due to the Vitamin B complex added to the product, and the BCAA's which you can see separately in the powder. I am disappointed with the taste. It's fine to add Vitamin B complex and the BCAA's but it stilll needs to taste pleasant too. I am a chocolate lover anyway and fortunately as I bought chocolate flavor I was able to mostly ignore the bitterness.
Mixing/Digesting
Power Mass Xtreme forms some lumps in milk and in water too. It can be attributed to casein and thus, being a blend it's harder to mix than whey protein concentrate. So, the mixability is average and it takes time to mix in water or milk.
The digestibility isn't so good either. It caused me bloating and I had to use digestive enzymes to improve digestion. It consists of Vitamin B complex too which made my urine dark yellow which I wasn't very comfortable with. I was destined to put up with this for 15 days till the time I was done with the 8 lbs tub. OK, so you can avoid taking a B complex tablet when using this, but I missed my Animal Pack for this many days which provides a better and more effective micronutrient profile in my opinion.
How Well Does It Work?
The effectiveness isn't that great as you might have expected from such a vast ingredient profile. It was simply not working well for me and I haven't gained any weight or strength while I was using Power Mass Xtreme. I expected that it would reduce my recovery time but no results. So have to give a thumbs down for this product from MVP.
A lot of people haven't used supplements from this company before, and if you are thinking of buying this one I would advise you to also compare with Cytosport Monster Mass, Gaspari Real Mass (not the probiotic one, it's not good, you will find mixed reviews about it) and Universal Real Gains or ON's Gold Standard. You can get better value for money by sticking to these reputable brands.
So bottom line, would I buy it again – no, sorry MVP but it just didn't work for me.