100% Whey Protein Professional Review (Scitec Nutrition)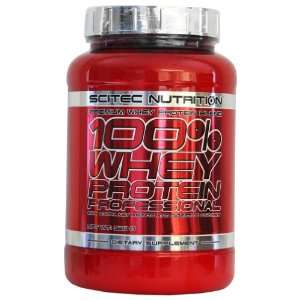 Positives
Helped me gain 3 pounds of body weight
Amino Acids included
Digestive enzymes included
Tastes great
Improved recovery
Negatives
Mixability OK in water, poor in milk
I bought a 5 kg sack of Scitec 100% Whey Protein Professional for $125. It may seem a little pricey but you get a great quality protein fortified with an anabolic amino acid matrix that includes glutamine, leucine and taurine. Plus there are the added benefits of digestive enzymes included too – in the form of papain and bromelain.
I chose Cappuccino flavor out of curiosity to try something new and unique that I haven't tasted before. Cappuccino isn't a flavor offered by most brands.
In The Bag
This product compares well with other whey protein powders. There are 166 servings in a 5 kg bag, and you can use up to 6 servings or more a day according to your requirements. Each 30 grams scoop provides you with 22 grams of protein. That seems a little low but the whole bag gives you over 3600 grams of protein and that is quite good.
Taste/Mixability
Okay, let's get back to the review. I opened the bag of 100% Whey Protein Professional and there's a 75 cc scoop inside. The whey gives out a mild aroma of coffee and I loved this. I took it both in water and milk and there are noticeable differences in the mixability. It mixes quite well in water though some amount of it will stick to the walls, but there are no clumps. Whereas this powder has really poor mixability in milk and it looks awful to see the clumps floating on the surface. You need to work quite hard to mix it milk.
The taste in water is different from the taste in milk too. In water it doesn't taste as sweet as in milk. It may taste slightly excessively sweet in milk; I don't know the reason for this but maybe that batch of milk was just sweeter. It feels like drinking actual cappuccino especially with milk even though the mixability is quite poor. I originally blamed the cocoa powder for this, but later I got to know from my friends that most of the Scitec whey proteins have poor mixability in milk including other flavors. I will say it tastes awesome though.
Digestibility
Next I would review the digestibility. There are added digestive enzymes, namely papain and bromelain. These help to improve the digestion process and I didn't feel any flatulence or bloating even after using it in milk for most of the time. If you take it with oats, the product can help you gain good mass – that was my personal experience anyway.
Does It Work?
The most important thing that most of users are concerned is the effectiveness of the product. Scitec 100% Whey Protein Professional has helped me gain around 3 pounds of body weight while keeping the same percentage of body fat.
I've been taking 6 scoops a day and it is quite helpful for recovery. The added amino acid matrix of leucine, taurine and glutamine are obviously helping greatly here.
Overall, my experience with Scitec's Pro Protein is good and I may well buy another bag of it again in future.