Monster Milk Reviews (Cytosport)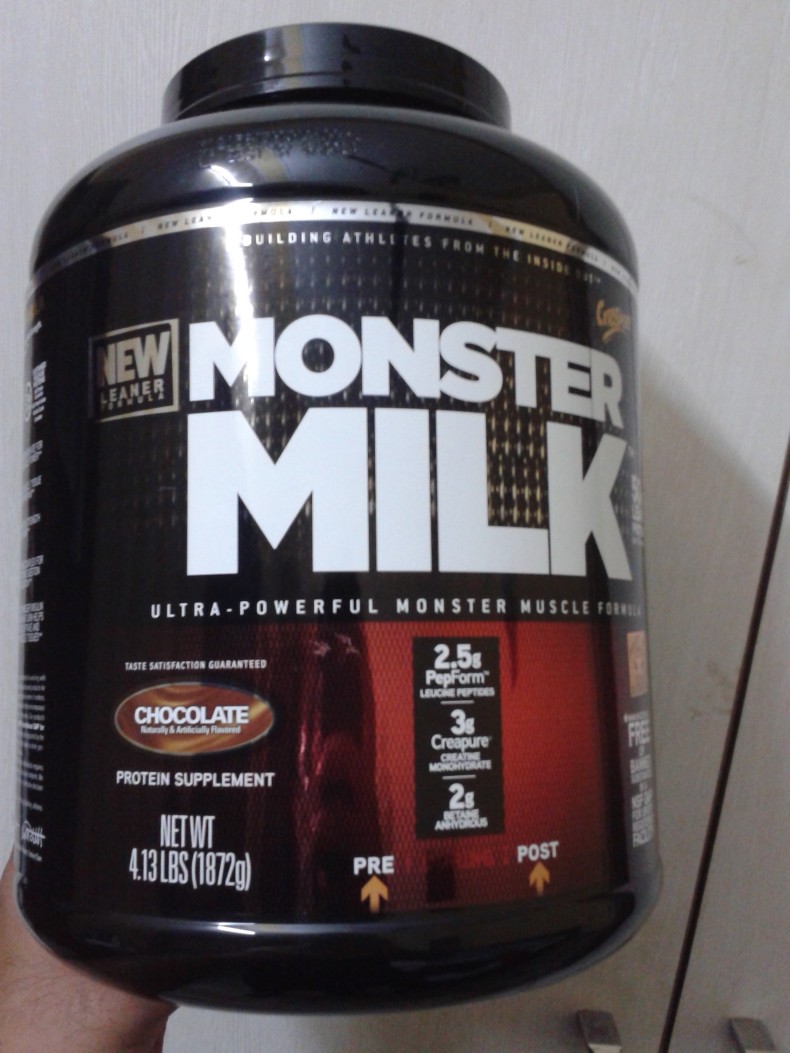 Positives
Mixes well
Good profile
Great taste
Gave me great results
Cytosport is a world-renowned company for sports nutrition supplements. I have used numerous products from this company, including Cytosport's Complete Whey, Cytogainer, Monster Mass and Pre-Workout. So far, my experience has been satisfactory.
This time I am reviewing Monster Milk after almost emptying a 4 lbs, tub and buying a second one in chocolate flavor. I bought a tub for $66 which is a good price where I am.
Product Profile
The product contains 24 servings of 78 grams each (made up of 2 scoops). There is 50 grams of protein per serving. The composition of the product looks more like a meal replacement supplement to me than a straightforward protein powder.
In addition to the protein there is 5 grams of glutamine, 3 grams of creatine, 2 grams of betaine and 3 grams of L-leucine in every serving. The 50 grams of protein comes from whey protein concentrate, isolate and hydrolysate along with slow release milk protein isolate or concentrate, micellar casein and calcium and sodium caseinates. Along with the protein source, there are medium chain triglycerides, maltodextrin and oligosaccharides for energy. I took three scoops a day in milk.
After nearly finishing my first tub of Monster Milk, I can say it has helped me to gain around an inch on my arms. It has also improved my lifts by as much as 10%, improved my endurance and reduced my recovery time to much less than other blends on the market I've tried. Which is why I've already bought 4 lbs tub! I'll now break down my review into more specifics.
Taste
This is the only aspect that lowers my score. The ingredient profile is good, and it supplies fast and slow release protein in good amounts. However, the taste is not as good as other blends like BSN's Syntha 6 but it is surely more effective than Gaspari Myofusion, Combat and Syntha 6. There is creatine in it and thus the taste is a little affected with it but it makes a thick shake. 7/10
Mixability
The protein powder makes some clumps in milk and water as well. It takes time to completely dissolve into the 500ml milk I use. This happens in all blends though and in my opinion, the score for Mixability will always remain lower for blends as casein takes time to dissolve. 7/10
Digestion
It has been 25 days since I started on Monster Milk. I've been using three scoops every day in milk and it did not cause any flatulence, constipation or loose stool. There is no problem with digestion and assimilation of this product. 9/10
Effectiveness
I do not mind giving this full score here. This is my top rated Cytosport supplement and my favorite protein blend from now onwards unless I find anything better than this. My bicep pumped to more than 18 inches and it brings recovery damn quickly. I usually get DOMS after doing intense sessions of squats. Yet I did legs four times while taking this product and it reduced the DOMS significantly. My strength and endurance are also up and I will definitely suggest people looking for a blended protein to use Cytosport Monster Milk at least once. 10/10
Price
Yep, it is little expensive over other products as you get only 4 lbs protein against 5 lbs for around the same price. So if you are on a budget I would go for something like Nutrex Muscle Infusion. However, if you can spend the extra $10 or so per tub of protein then this is definitely worth giving it a shot. 8/10