Weider Premium Whey Reviews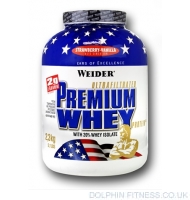 Positives
I gained 3 pounds of lean muscle
Flavor is good
Mixed well
Digests well
Worked well for me
Negatives
Price is higher than some other products
I hadn't realised before that Weider manufactures their own line of supplements, so I checked out this whole new range in a local nutrition store. They produce a vast line of sports nutrition supplements, and after using their Premium Whey I can now comment about the quality.
I purchased the Weider Premium Whey in Strawberry Vanilla flavor, a 5lbs tub for about $60. It's quite pricey here but I still purchased it after a little bargaining. It's a mixture of whey protein concentrate and isolate. There is 80 percent protein in the tub i.e. 1840 grams of the 2300 grams is protein. There are BCAAs and glutamine added to the protein.
I used this protein after workouts and first thing in the morning. It is a fast absorbing whey and thus suitable for using post workout with creatine, or one can consume it during the day as well. I took around 2 servings in water after workouts to get 50 grams of protein.
I would like to kick off my review by describing the taste. I won't say I loved the flavor but it was unique and a decent blend of vanilla and strawberry. You can mix it in milk to make a tasty protein shake, but just in water it tastes good. The taste could have been better, but still good. I loved the mild vanilla aroma every time I consumed it.
Next aspect I want to share is the mixability. The protein will stick to the walls but it is easy to mix especially in water. I never used it in milk. There were no clumps, no hardship to mix the whey. You can mix it in a shaker in seconds.
I didn't face any problem while using it. It digests very well and I had no issues like bloating or flatulence. I am not lactose intolerant so I felt no troubles.
Price per serving is quite high. I felt I could have gone for other whey proteins that would have tasted better like ON Gold Standard Whey in rocky road or cake batter for a 20% lower price. So, the purchase turned out to be a little harder on my pocket and this makes me a bit cautious about buying it in future.
So Does Weider Premium Work?

So enough about the cosmetic stuff, I guess the most important part about any supplement is the effectiveness – does it work!
I took it after workouts (2 scoops) and first thing in the morning (two scoops) for a quick protein supply. It does compare well with cheaper/similar options like Dymatize, ON, Universal if you are looking for whey protein concentrate mixed with whey protein isolate. Weider Premium Whey has 20% whey protein isolate which is pretty good compared to some mixed products. And the whey protein is processed using microfiltration – a process of extracting whey protein that aims to preserve the elements of whey like lactoferrins in a better way.
Bottom line – yes, it helped me recover from strenuous workouts and worked well for me. The quality is good in my opinion. I used it with creatine and dextrose post workout. It helped me gain 3 pounds of lean muscle mass.
You Can Buy Premium Whey From Amazon Here
Will I buy it again? I'm not sure, it is more expensive than other whey products which is the only thing holding me back, but I can't deny that it did give me good results.
We hope you love the products we recommend on this site as much as we do. But just so you know, our site may receive a small percentage of the purchase price if you buy.