High Protein Muffin Recipe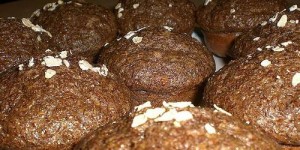 If you are looking for a high protein tasty treat, this healthy high protein muffin recipe is exactly what you need. Imagine a regular chocolate muffin but with high protein, and you get the gist of what these beauties taste like.
They work well for breakfast (try them with jam!) or as a mid morning snack. Or just whenever you feel the need! They are great for people on high protein diets, for bodybuilding, or anyone concerned they may not be getting enough good protein in their diet.
They are delicious just as they are, or you can split them and spread them with butter, peanut or other nut butters – even better 🙂
These are NOT strict paleo, because the whey powder used originates from milk – but if you're not 100% strict then these can make a great addition to a paleo diet.
Protein Muffins Ingredients:
8 Egg Whites
150 Grams of Flaxmeal
1 Scoop of Whey Protein Powder
1 TSP of Baking Powder
1 TBSP of Olive Oil
2 TSP of Cocoa
1 Packet of Splenda
Notes On Recipe Adjustments:
1. You can change out the splenda for stevia or whatever sweetener you prefer, or half a banana or even leave it out altogether if you don't need the sweet.
2. Flax has a high protein level, but you can substitute this too if you prefer chia meal for example.
3. If you want a little extra decoration, try sprinkling some dried fruit or oatmeal on top.
Steps To Make Your Protein Muffins
1. You need to preheat the oven to about 450°F / 230°C / 210°C.
2. Add to a large mixing bowl the Flaxmeal, Whey Powder, Baking Powder and Cocoa. Add in the splenda (or other sweetener) and mix well.
3. Create a well in the middle of the dry ingredients and add in the egg whites.
4. Get a whisk and beat well until all the ingredients are mixed in. You want the mixture to be very consistent, and slightly on the thick side. When you hold up the whisk it should drip down smoothly. Just add a bit more egg white if too thick, or a bit more flax/whey if too runny.
5. Get your muffin tray ready (butter the inside if you need to) and carefully put the mixture in, You need to about ¾ fill each one. You should get about 12 muffins as a general rule.
6. Bake for about 20-25 minutes. But keep an eye on them, burnt muffins don't taste good.
7. Take them out when they are springy to the touch and well risen. If when you stick a knife in it comes out clean then you know they are cooked all the way through.
8. Let them cool in the tin for 5 minutes and they will be much easier to pop out. Then cool fully on a wire cooling rack for as long as you can bear to wait 😉
9. Now go eat one – and let me know in the comments below how you think they taste?
Storing Your Muffins
Once fully cooled, store them in an air tight container in a cool, dark cupboard and they will keep just fine for a week. If you can avoid eating them for that long. Hope you like this recipe for protein muffins. Enjoy.
Nutrition Facts
This Protein Muffin Recipe makes 12 servings and for each Muffin there are:
Calories: 97
Protein: 8.6g
Carbohydrate: 4.8g
Fat: 5.7g