AllWhey Reviews (AllMax Nutrition)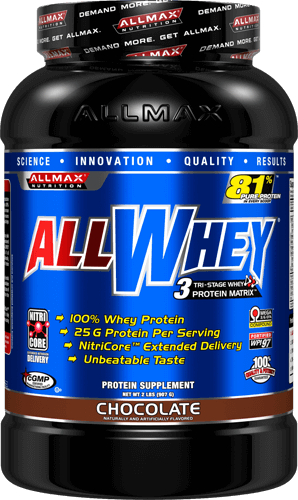 Positives
Good price
Good profile
Good falvor
AllMax Nutrition are a Canadian sports supplements manufacturer with a good background and reputation. And the supplements from this company are quite easy on the pocket as well. I have been using their AllWhey product for the past 2 months now and my gains have been consistent.
AllWhey provides 25 grams of first class protein per serving. I get 5 lbs tub and have used chocolate as well as the strawberry flavor.
The company claims 81% of pure protein in every scoop i.e. 25 grams and there are 73 scoops in a tub. The scoop size is smaller than the usual 70 cc whey protein scoops. It served my purpose well in the gym and I am glad that I bought this product. It is ideal for post workout consumption and during the day as well.
You can use this whey on a cutting phase and even on a low carb diet as one scoop contains only 1 grams of sugar and 5 grams of total carbohydrates. I really like the profile. There is hydrolyzed whey protein, whey protein concentrate and whey protein isolate together with creatine monohydrate, taurine, CLA, essential fatty acids EFA and digestive enzymes.
So here's the breakdown of my review of this product:-
Taste
This whey protein tastes good. Not too sweet nor very bland but an optimum taste really. It reminded me of Universal Ultra Whey Pro and Dymatize Elite in terms of taste. Although in terms of profile AllMax AllWhey wins over these two. I can give it a score of 9/10 for taste. It tastes best in chilled milk – I take it in milk most of the time. Although it tastes fine in water as well.
Mixability
AllWhey mixes quite well without any clumps in the milk. You can see the pictures below, I mixed two scoops of whey in milk and there are no clumps at all. Two scoops in water after a workout gave me 50 grams of first class protein. You just need to add some glucose after workout to provoke insulin spike. No need to add creatine as AllWhey already contains creatine monohydrate. Again, I am giving it a 9/10 for Mixability.
Digestion
Well, I felt that it lags a bit here despite the added digestive enzymes. There was some flatulence when I started using this protein. It will be great if AllMax can improve the digestibility. I can give 8/10 for digestion.
Effectiveness
I took this for 60 days with 4 to 6 scoops a day, two post-workout and the rest during the day and at night. I gained 2 pounds of muscle even when my diet was not right and appropriate. I ate less meals rich in first class protein and still gained muscle. I keep a check on my percentage of body fat. My body weight is 90 kilograms with 20% body fat. I can give it 8.5/10 for effectiveness.
So this is a cost effective and quality whey protein and easily available as well. So I can rate 10/10 for the price.