Stimul8 Reviews (Finaflex)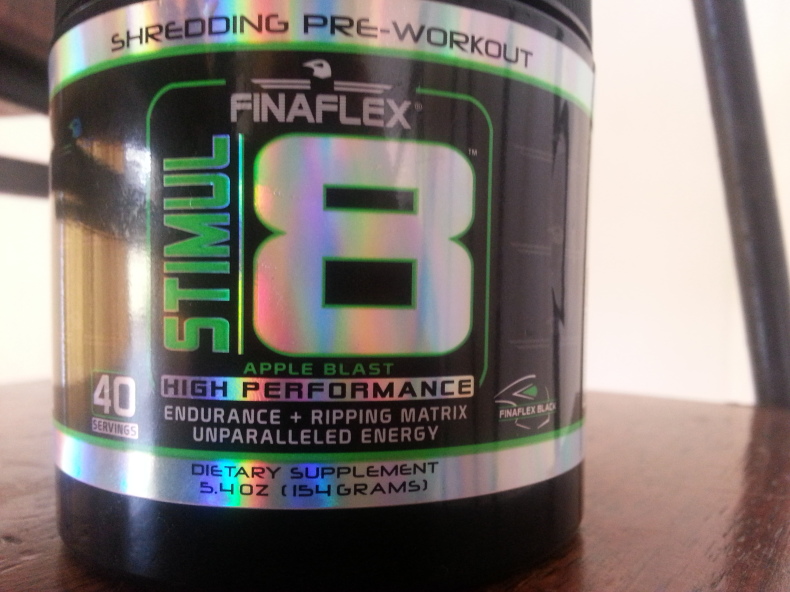 Positives
Loads of energy
Good value
Negatives
Can't sleep :-)
Some heavy sweating (good or bad??)
Today I will review a pre-workout that has made me feel stimulated, LOL. It's a pre-workout product called Stimul8 made by Finaflex. I had been reading only good reviews online about this product so had to give it a try .
On the Stimul8 bottle it says to take 1/2 scoop before thinking about even upping it up to 1 full scoop, to see how it works out. And then use a full scoop if 1/2 wasn't good enough. But me being a stim junky I went full scoop right away. Stimul8 is one hell of a stimmed pre-workout supplement, and that is just what I like.
Ingredients
STIMUL8 THERMOGENIC RIPPING MATRIX – 2,604 mg
XTREME SHREDDING MATRIX
1,3,7-trimethylxanthine (Caffeine), b-phenethylamine HCl, IRISINXD (Green Tea Extract [standardized for EGCG], N-Coumaroyldopamine), Hordenine HCl, Synephrine HCl, Rauwolfia vomitoria (Standardized for 90% Rauwolscine)
ULTIMATE ENDURANCE MATRIX Beta Alanine
I never felt the tingling sansation from the beta alanine, I have no idea why – underdosed maybe?
The Taste
Apple blast is very enjoyable to sip on. I always found myself drinking it slowly to enjoy it. This flavor really tasted like candy, you know those jolly rancher or whatever that candy is called. Stimul8 is not overpowering at all and isn't loaded with dyes, which is huge for me as I HATE dyes.
The Pump
Unfortunately the pump was not really there for me as for some other pre workouts I have tried in the past. I know uncut gives you an insane pump but this was mostly so so. But I am one of the guys that does not give a shit about pumps, I just want to have an effective
workout, and that's it.
I do not like the fact that when you get an insane pump, the pump goes away after a couple hours – that seems stupid to me.
The Energy
Here is where the product really shines. My energy levels went through the roof. Energy that I could feel way past after my workout. I was also sweating a ton more than usual, which could be a good or bad thing.
The Value

Quite simply, Stimul8 does exactly what you'd expect it to do. It is a straight up stimulating product. Nothing but energy here and it masters the execution.
You Can Buy Stimul 8 From Amazon Here
On most sites I have seen this sell for around $30 which I don't think is too bad a price at all for what you get.
We hope you love the products we recommend on this site as much as we do. But just so you know, our site may receive a small percentage of the purchase price if you buy.