Cytomax Review (Cytosport)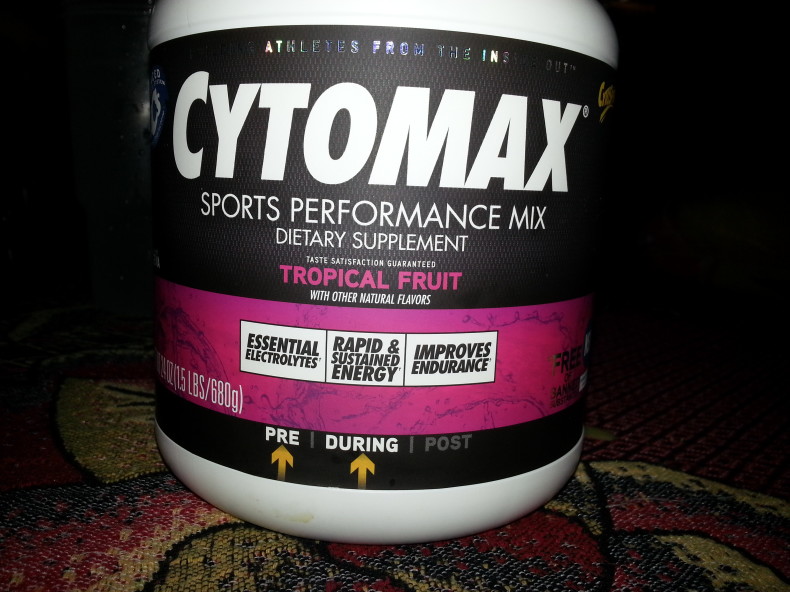 Positives
Noticeable improvement in energy and stamina
Helps prevent cramping during long workouts
Less tired after a hard workout
Easy to mix
Great flavors, tropical fruit punch in this case was good enough for me
Negatives
A few people get upset stomachs
Some flavors are not experienced as well (but don't be a bitch about taste)
I have not tried many intra workout drinks but have to say that cytomax really delivers on endurance. The name Cytosport has been on the market for a few years, well established within the sports nutrition world. In contrast, it was only recently that I've tried Cytomax Performance Drink and now got the chance of writing my honest review on this product.
I bought the tropical fruit punch flavor and it smelled awesome upon opening the tub. It appears that Cytomax is very easy to mix. I mixed 2 scoops (50 grams) with 25 oz of water and shook a few times quickly. What you get is a thin substance with no after taste. I was really surprised how 'clean' the texture was. It was totally non-sticky, as is the case with many other carbohydrate drinks.
Note: in the picture below you will see some bubbles like it's carbonated – this is not the case. On that particular day I mixed it with a fork because I could not find the closing cap of my shaker bottle, it does not have bubbles when you shake it rather than whisk it!
Cytomax Taste
Cytomax is available in the following flavors :
Cool Citrus
Fresh Apple
Pomegranate Berry
Tropical Fruit
Go Grape
Tangy Orange
Cytomax tropical fruit punch is not great tasting but pretty good. Not sure if the addition of stevia is the cause. It's not too strong and not too sweet.  But I don't really care about the taste as long as it works.
Overall Experience
My overall experience has been that I could feel an increase in energy (not the typical energy you get from a good pre-workout) and I had more endurance throughout my workout.
It was really easy for me to see the difference because before Cytomax I just used water intra workout, and switching from water to Cytomax made me see the difference immediately on the first day of using this.
Cytomax Use
Cytomax is an ideal product to take to prevent sour, fight fatigue and improve endurance. While training.
Caution! This is not a full pre-workout product. If you're expecting a huge boost in energy and focus, I would like to spare you the disappointment. It is a super product in terms of stamina, but gives no energy boost as many pre-workout products do. Cytomax is therefore an excellent intra-workout product.
To me it was money well spent.