Complete Whey Review (Cytosport)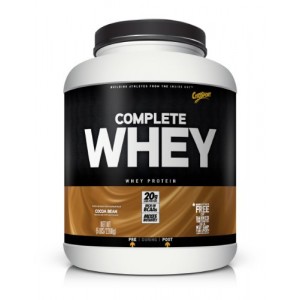 Positives
Worked well
Gained 2lbs lean muscle on it
Good profile
Good price
Negatives
Unpleasant aftertaste
Some digestion issues
Cytosport are a well known company with both R&D and manufacturing based in the USA. Here I'm going to review their 'Complete Whey' protein powder.
You can get a 5lbs tub of Complete Whey for around $50 if you are in USA. I've used both the Strawberry Banana, and Cookies 'n Crème flavors. I also plan to try the Cocoa Bean flavor as well.
Cytosport Complete Whey is a decent product and has a great looking profile. I bought this protein because it has a greater number of servings than other proteins, and due to the quality of whey being comparable to Optimum Nutrition and other elite brands like Dymatize. Therefore, I consider this a great option if you are on a tight budget for your supplements.
Taste
There's an awesome aroma from the powders of both the flavors I've tried (Strawberry Banana and Cookies 'n Crème). I mostly took this protein in water, after my workout sessions, but the taste is not very good at all in my opinion. It tastes fine in the beginning but leaves a bad chemical like aftertaste. Same thing happens when mixed with milk. I have used many proteins before this and I just didn't like the taste of Cytosport's Complete Whey.
It mixes well and instantly without any formation of lumps in milk as well as in water, which is good.
Digestion
I felt some issues with digestibility though as well. They have added some digestive enzymes but I felt bloating and that was even greater than when I used the Monster Mass gainer. I took papain and bromelain enzyme supplementation along with this protein to avoid flatulence. So, I am not really happy with digestibility. It could be due to artificial sweeteners or possibly those flavorings that leave me with a chemical like taste in my mouth.
Profile
If you look at the ingredient profile it says 84 servings per container (there were 113 servings per tub stated on the previous packing). The new label does now read 20 grams of protein per serving though, whereas there was 18 grams of protein in the older variant. So this has been reformulated to some extent already. You now get about 1700 grams of first class protein with BV of 103 that works great to maintain and build an anabolic environment in your body after intense workouts.
Does It Work?
Okay, the most important part about any supplement is its effectiveness. I will say it works well enough to provide essential macronutrients after workouts and at other times of day as well. It helps in recovery and I felt good as I was using Cytosport Complete Whey to recover my poor worked muscles. I did also gain around 2 pounds of lean mass while I used the product.
Will I buy it again? Not sure, if the formula improves again to resolve that aftertaste and the digestibility then yes, definitely.