Muscle Infusion Black Reviews (Nutrex)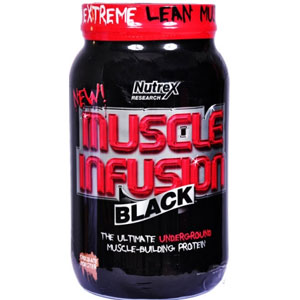 Positives
Worked well for me
Good blend of slow & fast absorbing proteins
Tastes great
Negatives
Perhaps a little expensive
I've used three products from the Nutrex range so far – Hemo Rage Black, Hemo Rage Black UC and now Muscle Infusion. I've also seen great reviews of their Lipo 6 Black fat burning supplements. Nutrex Niox and Nutrex VoluGro are already on my wish list to try out too.
I don't know much of the history about this company but its R&D is based in US and availability is spreading quickly worldwide. IFBB Pro Zack Khan is on team Nutrex vouching for the product range.
Anyway, I digress. So this review is about Nutrex Muscle Infusion which is a blend of different types of proteins just like Gaspari Myofusion and BSN Syntha 6. The latter are the two most popular blends on the market right now, and after using the Muscle Infusion I can now say it's in no way inferior to either of those.
Taste
I loved drinking this owing to the great taste. You can smell its strong aroma at the opposite corner of the locker room. I took this in water most of the time and it tastes really good in water. You can prepare thick shakes using 2 scoops of the protein powder or mix it with oatmeal to make chocolate milk oatmeal for breakfast so that every serving will give you more than 600 calories for gaining muscle.
Mixability
You would expect that it would form lumps and not mix so great as Muscle Infusion is a blend, but ironically it mixes well in water without forming any lumps. Though it takes more time to mix in milk and there are some lumps I still liked its mixability both in milk and water. You can see how it mixed in the photo below – this is 1 scoop of Chocolate Monster flavor in water, no lumps at all.
Digestibility
I felt some bloating while I was using this supplement. I would blame the casein and milk protein isolate for this. There are added digestive enzymes but whilst I still felt some bloating it was tolerable.
Profile
There are 60 servings in the tub and I used it 3 serving everyday for 3 weeks – one scoop before bedtime, one with the breakfast and one with lunch. I never took it after workout because it's a blend protein made of 7 different types of proteins to provide a sustained release.
You can see full details of the types of protein in the ingredient profile (photo top right). There are fast absorbing whey protein, hydrolysates, egg albumin and whey protein concentrate. But there are also slow absorbing micellar casein calcium caseinate and milk protein isolate to give a sustained supple of amino acids.
Bottom line – this product helped me recover faster, and fulfilled my needs for first class protein during the day.  Each serving gives you 25 grams of first class protein and I took about three scoops a day which forms 40% of my daily protein requirements. I will buy it again in future.