Syntha 6 (BSN) Reviews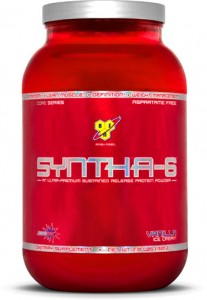 BSN is an old renowned company making great sports nutrition supplements ideal for strength trainees and bodybuilders. Syntha 6 is what they are calling "BSN's Flagship Protein", so let's see if it lives up to the hype.
I always wanted to try this protein but somehow every time I went to buy it I always ended up picking another company's blend like Gaspari, Nutrex's Muscle Infusion or something else. By comparing the serving count, amount of protein per serve and price Syntha 6 never quite managed to win my cash.
It is true that Syntha 6 is an expensive protein choice, and it does provide less servings than blends with a similar profile. Well finally the day came, and I have now galloped down a full tub of BSN Syntha 6 in chocolate peanut butter flavor and can share my review.
I personally find supplements can be expensive as compared to a wholesome diet so I have always closely scrutinized the ingredient profile and protein count of products, together with the price. The goal is to replenish the muscles from the microtrauma of working out not to pamper the taste buds, so for me, supplements have to work hard and perform well to get my custom.
Taste
I can rate this protein 8.5 out of 10 for taste. And not just because I think the old Myofusion from Gaspari tasted better when it comes to chocolate peanut butter. It has little roasted peanut granules coated with chocolate and Syntha 6 is definitely a great tasting protein shake after workouts, especially in chilled milk. I have also used MP Combat in chocolate peanut and I will rate Combat lower than in terms of taste.
Mixability
It mixes with some lumps that float on the top of the shaker bottle which then slowly mix into the milk. I took a few servings in water as well and it mixed more easily in water than in milk. Syntha 6 contains micellar casein and it takes longer to mix in milk and water than whey protein concentrate. Therefore, I can give it 8/10 for mixing.
Digestion
There was no problem at all with digestion. No gas or flatulence, proper digestion and despite the fact it contains less than half the protein of its scoop size (22 grams protein blend in 47 grams serving size and a tub contains 48 servings) there was no issue with digestion at all. Therefore, Syntha 6 gets 9/10 for digestion.
Does It Work?

My arm size before starting the tub was a little less than 17 inches but now it is little less than 17 and a half inches. I did not eat too much chicken/ fish with this supplement. However, I stacked it with GAT Jetfuse and the results have been good for me. My weight increased by 3 pounds and a little fat percentage as well. It is good for people looking to bulk up rather than for lean periods.
Each scoop contains 15 grams of carbs and 6 grams of fat. Well, I agree that's too much and it is as good as a 1:1 weight gainer but I still vouch for it on a bulking cycle owing to its ingredient profile which includes medium chain triglycerides as well. I do not mind using it as a gainer for lean gaining instead of sugar loaded weight gainers. But it is neither a gainer fulfilling the right amount of carbs nor a pure protein. Therefore, I wonder if the ingredient profile can improve to provide more protein per tub (only 1056 grams of protein per tub in this case)? But for effectiveness, I can give it 8/10.
It is quite expensive though when you check the price per serving ratio, protein per tub ratio and the protein per serving ratio. I will rate it 7/10 for this aspect.