Amino X Reviews (BSN)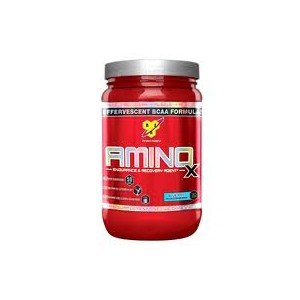 Positives
Mixes Easily
Tastes Great
Effective - boosted my strength and stamina
Improves Recovery
Negatives
Heavily Fizzy When Mixed (although I like it)
BSN supplements have always been popular in the sports supplementation industry. The products are generally brilliant and work well to bring recovery of muscles and provide the additional edge to bodybuilders.
Personally, I have tried BSN Syntha 6, NO Xplode and now Amino X from this company and I am satisfied with all three products. They do not only taste good but also deliver the desired results. The price is also a plus when you buy BSN supplements, they are economic and widely available on the market. My review of Amino X comes after using two cans of this BCAA supplement.
I was lucky enough to find this on a buy 2 get 1 free deal so couldn't resist getting 3. All three were in watermelon flavor. I consumed them intra-workout in ice-chilled water.
Profile
Every can contains 30 servings, and each serving has around 10 grams of branch-chained amino acids, i.e. L-leucine, L-valine and L-isoleucine. It also contains citrulline malate and glutamine. Therefore, the ingredient profile is good.
Taste
I must make a confession here. I drank this supplement throughout the day because I love the taste. It makes a perfect effervescent drink by just adding chilled water. I live in sub-tropical climate and workout even in hot summers, and this drink seems to be an elixir when you return home after being exposed to a hot and humid environment. Okay, I admit, I officially love this product. However, there are other aspects to it as well – it does also work well when it comes to recovery of muscle and I will talk about the effectiveness below. I will rate it 9/10 as this is the best BCAA supplement I have ever tasted.
Mixability
It takes some time to mix into water. But all amino blends take time no matter how much they process them. However, there were no clumps, although some crystals did settle down to the bottom of the bottle and they have a tangy taste in the end. This is if I mix a scoop in 250 ml water. It takes 500 ml of water to let the BCAA properly mix and leave no sediments in the end. It scores 8/10 for mixability IMO.
Digestion
No flatulence, and no problem with digestion at all 100 percent score for digestion. 10/10.
Price
Per serving ratio it is an economic BCAA supplement. I bought it for around $40 – no other supplement gives 90 servings for this good a price. I wish I could have ordered more at the 3-for-2 special I got! But now I want to try the green apple flavor too. Anyway, it gets 10/10 for price to serving ratio.
Effectiveness
This supplement allowed me to lift heavier weights during my workout. It improved my recovery time as well. Taking it during the day and intra-workout is actually good because you can replenish the depleted amino acid pool with it as you work.
Using Amino X I can lift more in deadlifts and bench press, and I do not feel fatigue. Hence, it improves muscle recovery, strength and stamina as well. I use this for cardio sessions too as it prevents muscle loss during exercise. This product deserves 9/10 for improving performance during exercise.
You can get it in 10, 30 and 90 servings packs. You can always choose a smaller one to try it first if you're not sure, but I'm pretty certain you won't be disappointed if you buy big 🙂