Assault Reviews (Muscle Pharm)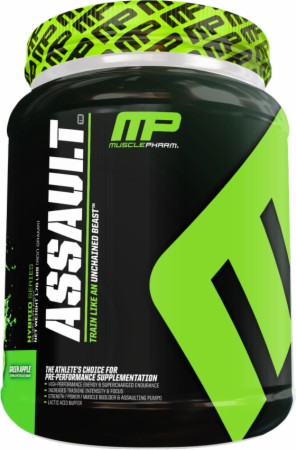 Positives
Great Clean Energy
No Crash
Good Pump
Good Flavors
Muscle Pharm Assault is one of the best selling pre-workout supplements. And I think it's better than other pre-workouts such as Jack3d or Neurocore. This product gave me clean energy, really boosted my workouts at the end of the day — and I did not crash because of the stims in the supplement. So no crash of energy and I can feel the pumps during my workout. But I'm getting ahead of myself – back to the review.
I workout late at night because I am busy throughout the day, so I do not get time to relax. I really need a kick to start my strength training sessions. Which is why I bought Assault. I had previously tried a free sample (who said free supplement samples don't work!)  and I really liked the taste and the energy. So I bought three of the eight serving packs of Assault. I could have gone for a 32 serving tub but I like to try different flavors.
Taste
These aren't the only flavors, they are just the 3 that I liked the sound of and were actually available in samller packs.
Orange Mango – tastes great, I liked the blend of mango and orange and found it quite refreshing. I can give it a score to compare them with each other – 8.5/10.
Raspberry Lemonade – it tastes awesome and a blend of slight sourness with the punch of raspberry. I can rate this 9/10.
Fruit Punch – this is not as good as the other two. It tastes quite similar to other fruit punch flavored supplements. I rate it 8/10.
Mixability
It mixes really well in water but there are some smaller clumps that float on the top. This might be because of the BCAA present in it. Otherwise, it can mix with a few whirls of the spoon. I give it 8/10 for mixability.
Digestion
There was no issue with digestion. It's absolutely fine. I felt quite good while using it and will buy it again. No diarrhea/loose stools as happens sometimes when you use pre-workouts rich in fillers, l-arginine or excessive sweeteners. This calls for a rating of 9/10 from me.
So, Does Assault Work?
Muscle Pharm Assault is effective, and I even felt that I could work out for even longer after completing my weight training session. There was no energy crash as with other PWOs, no jitters owing to excessive amounts of stims and no sleeplessness.
I took it 30 minutes prior to work out and loved my gym sessions. These are the pros of MP assault. I felt great pumps and could lift more reps and more weight. I give it a score of 9/10 for effectiveness.
Under cons, I can pretty much only list the price. It costs a bit more when it comes to the price per serving. I paid around $1.25 for a serving – although bear in mind I deliberaetly bought small tubs to check flavors. Assault does now come in a 50 serving pack too which at online prices should bring the cost well under $1 a serve.
It is easily available and quite popular in my gym. Therefore, you can buy this without any second thought and I bet you will like it. Particularly if you do not like too much stimulant, and you want a supplement that can support recovery during high intensity weight training sessions.